SUCRE BERRY BISCUIT NECKLACES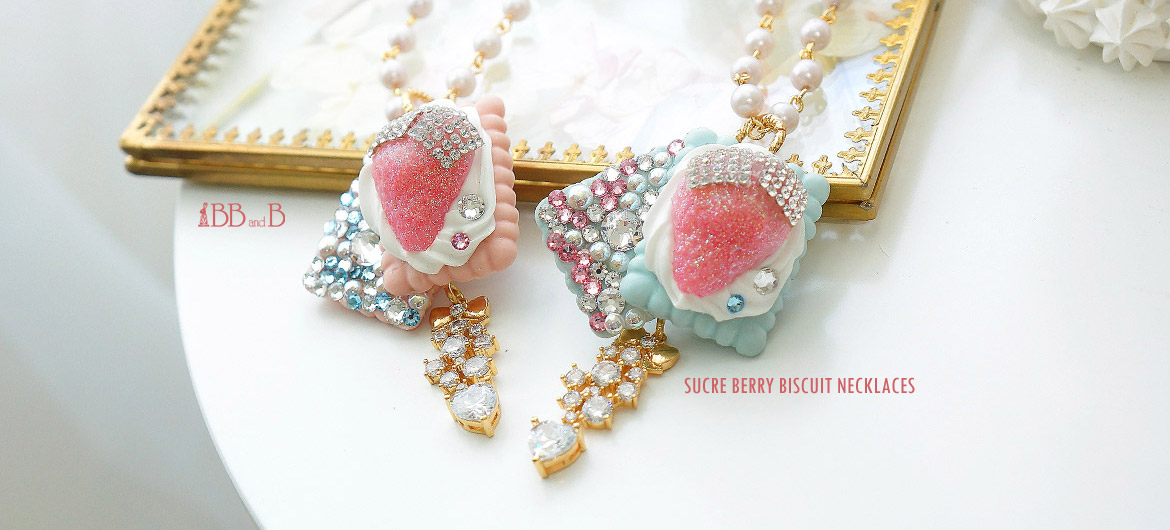 The Sucré Berry Biscuit necklaces features two adorable biscuits with a one of a kind custom created tea party stamp on the back, complete with the "BB and B" signature.
Complementary crystals of blue/clear or pink/clear along with sparkling pearls are sandwiched between the two pastel hued biscuits that adds the perfect touch of glamour to this handcrafted pendant.
Right below the biscuit sandwiches dangle a gold bow charm that is accompanied by eleven "falling" crystals that's sure to catch the light and catch some glances.
Last, but not least, the focal point of this handmade necklace is a crystal covered, glitter encrusted light pink strawberry that sits atop a swirl of fluffy deco cream! This breathtaking design hangs from an 18kt gold plated pearl accent necklace that completes this classic BB and B aesthetic.
Click below to see the necklaces. (login required)