ROYAL SUGAR COOKIE WITH EMBOSSED FONDANT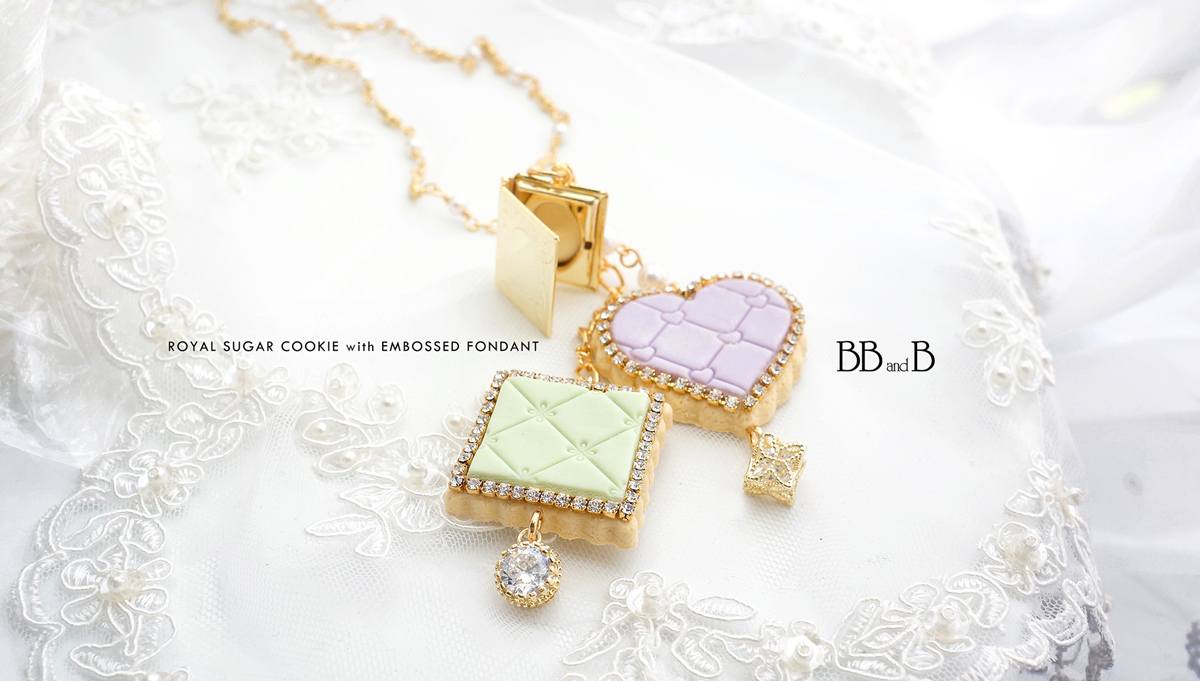 The Royal Sugar Cookie with Embossed Fondant is an adorable jewelry collection that's perfect for a cute and elegant look. This sweet and regal treat features a heart-shaped and simple square sugar cookie covered in embossed fondant that's been framed with gleaming Swarovski crystals in the form of two rings, a necklace, a phone/bag charm, and a pair of mix-matched drop pendant earrings!
The heart-shaped scalloped edge sugar cookie features a matching heart motif quilted pattern fondant layer in a light taro flavor while the square scalloped edge sugar cookie features a floral pattern motif in a soft matcha milk green. Both cookies are framed with sparkling Swarovski brand crystals for a truly royal effect. Each cookie is accompanied with their own unique dangling charms (crystal charm for the square cookie while the heart cookie is decorated with a 3D star-like charm). The necklace and charms include a 18kt gold plated intricate book shaped locket that you can use to carry your favourite photo in!
While this collection is perfect to match all together, they are all unique enough to stand out in any outfit! Every piece of this collection minus the rings will include both embossed fondant scalloped sugar cookies so don't feel the need to choose!
Click to order. (login required)