ROYAL BISCUITS ii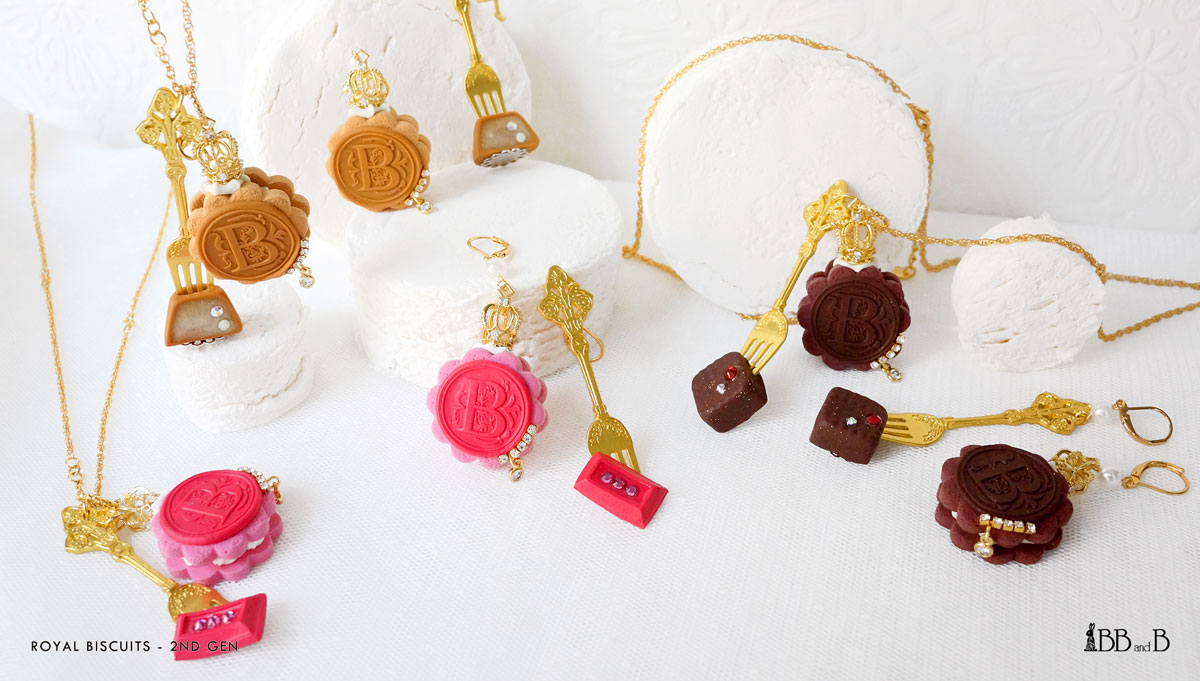 We are pleased to be able to present our 2nd generation of our popular Royal Biscuits cookie jewelry!
Richly textured biscuit cookies sandwich little white whip cream dollops and are topped with an elegantly wax stamped "B."  New for our 2nd generation is an updated, slightly sharper flower shape biscuit cookies.  We also updated the royal crown with our custom BB and B designed one, and the "drip" off the wax stamp now features a CZ stone charm that still hangs off the crystal chain.
The golden brown biscuit is similar to our past gen with the most visual difference being the newer cut caramel candy that now features a golden shimmering salted mix in the center with matching Swarovski rhinestones.  And an updated (material) ornate fork pierces the caramel.
Our new burgundy biscuit has a slightly richer mixture than our past gen, with a bit more of the red within.  The chocolate that is pierced by the ornate fork is now glittered with just a dash of gold and is matched with Swarovski rhinestones again for just a little bit of bling.
And the most eye catching of our new 2nd generation Royal Biscuit would be the new Pink biscuit colorway!
Call it a softer fuchsia with its soft pink cookie biscuit and the richer pink wax stamped B.  The pink biscuit features a hershey style chocolate that's also pierced with the ornate fork and is decorated with 3 matching Swarovski rhinestones within its indent.
All 3 colorways of the Royal Biscuit is available as a necklace, earring set, and ring.
Click to order. (login required)