PEARLESCENT ROCOCO MACARONS

BB and B recently (pre-covid19) had the chance to admire Baroque and Rococo gowns in detail for our sister brand Ronova and within the group was one particular dress that had the most beautiful soft green fabric and pattern. So beautiful was the fabric that it inspired us to create a "signature" series of macaron jewelry where we focused completely on colors with simplified and purposeful design.
We are pleased to introduce the first (of what we hope) four of the Pearlescent Rococo Macaron jewelry collection. Created from measured and matched Japanese air clay that has a luminous finish with a very specific macaron shell color which were chosen because it spoke to us and the Rococo fashion that we love.
The honeydew like Viennese Mint Pearlescent Rococo macaron is the one that started it all; it's our take on what Rococo jewelry would be like if it was sweet.  The others were inspired by other fabrics as well but with us reminiscing of some of our favorite things; the blush pink petals of a newly formed pink rose, the icy blue glacier under an aurora borealis in the arctic circle, and the masterful paintings of pastoral Italy.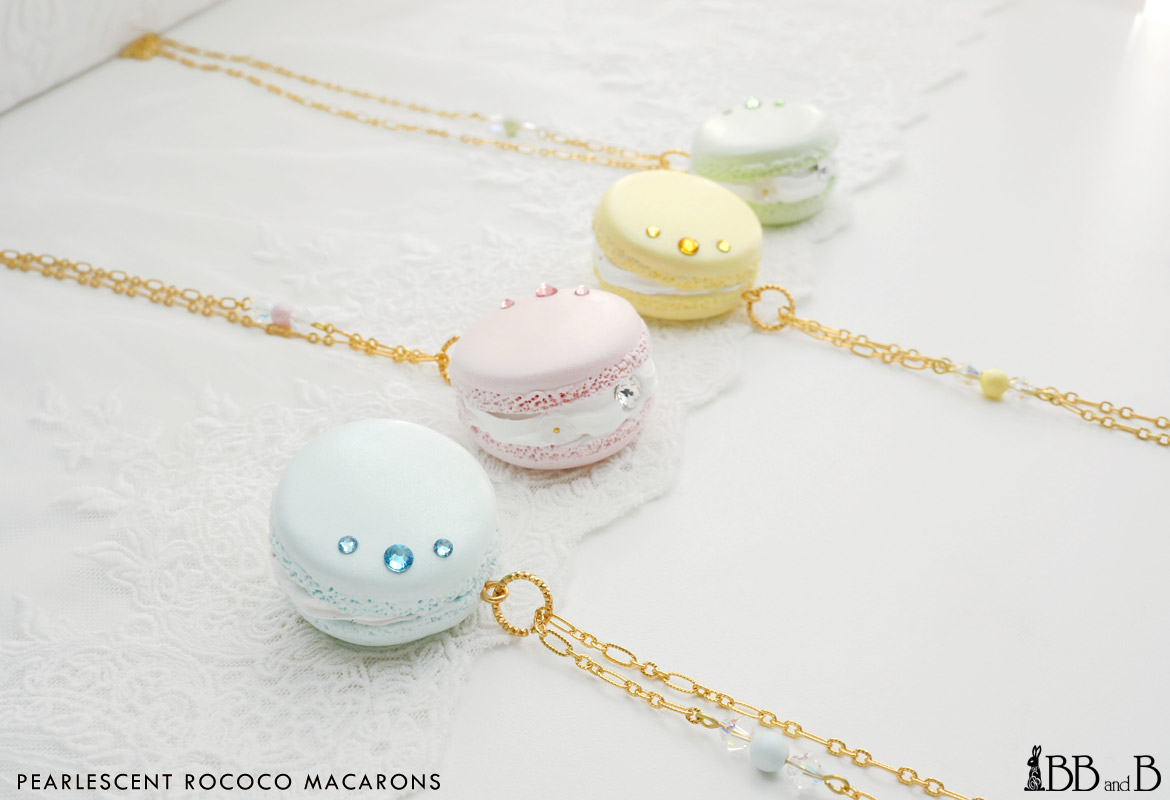 Color matched Swarovski crystals adorn and accent the top macaron shell while an additional Swarovski crystal and pearl are nestled within the pure white whip cream. Also within the whip cream, a Czech "crystal" flower with a gold dot center flanks that Swarovski crystal and pearl.
Like many of our other jewelry, all Pearlescent Rococo Macaron necklaces hang from an 18kt gold plated chain. On the chain are color matched Swarovski pearls.  One is to the side, like a charm with clear diamond shaped beads, while another hangs from the clasp/tail of the chain, allowing it to hang at the nape of your neck.
Click to order. (login required)