KITTY DOUGHNUT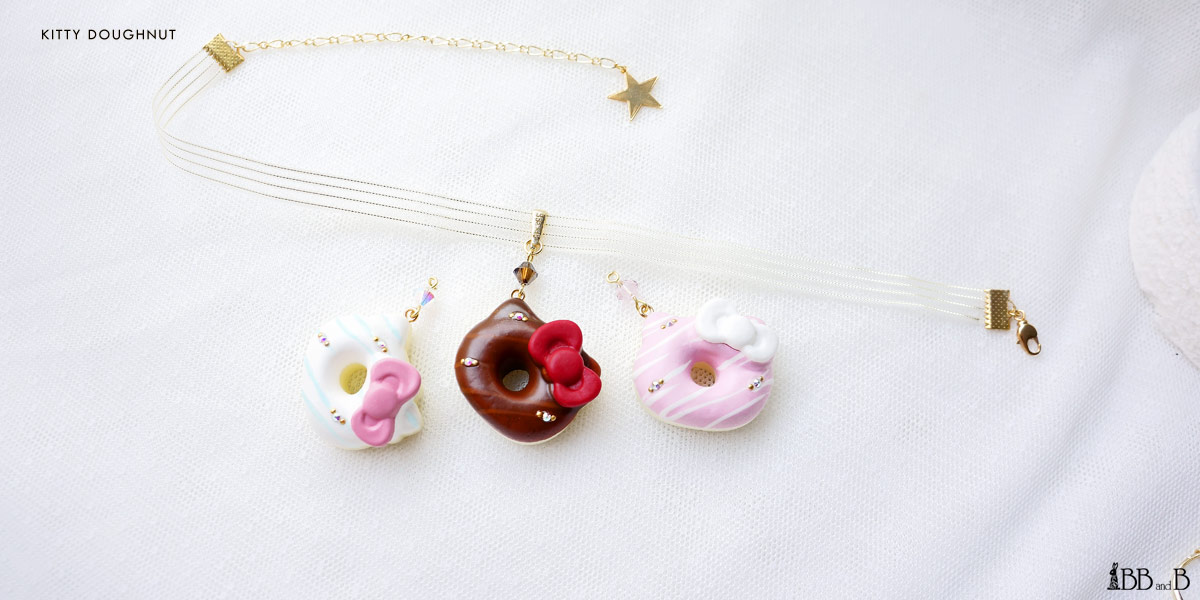 You know what's cuter than regular doughnuts? Doughnuts with two adorable kitty ears and a giant hairbow! These Hello Kitty doughnuts are inspired by Sanrio's most popular character and comes in three different glazes: Vanilla, Chocolate, and Strawberry!
These handcrafted treats are designed as a necklace, a choker, and a ring so you can pair them easily together! Using a genuine Sanrio mold, these decadent desserts are given Hello Kitty's iconic rounded ears and her single giant hair bow in complimenting colors (Pink with vanilla, white with strawberry, and a classic ruby red with the chocolate) with a dash of sparkle from tiny golden beads and gleaming petite crystals. All the hardware used in this collection utilizes 18kt gold plated metal that pairs well with the colour coordinated iridescent bead and milky white pearl decorated chain with the CZ stone encrusted heart shaped charm as seen on the necklace, along with the gold trimmed ribbon used on the choker!
This subtle, yet charming Hello Kitty inspired collection is perfect for sprinkling in a little hint of darling to your daily outfits as a precious statement piece! Between the two captivating necklaces and the loveable ring, how would anyone be able to have just one?
Available for pre-order now with a 4 week delivery window. Click to order. (login required)