Devil's Heart Macaron Necklace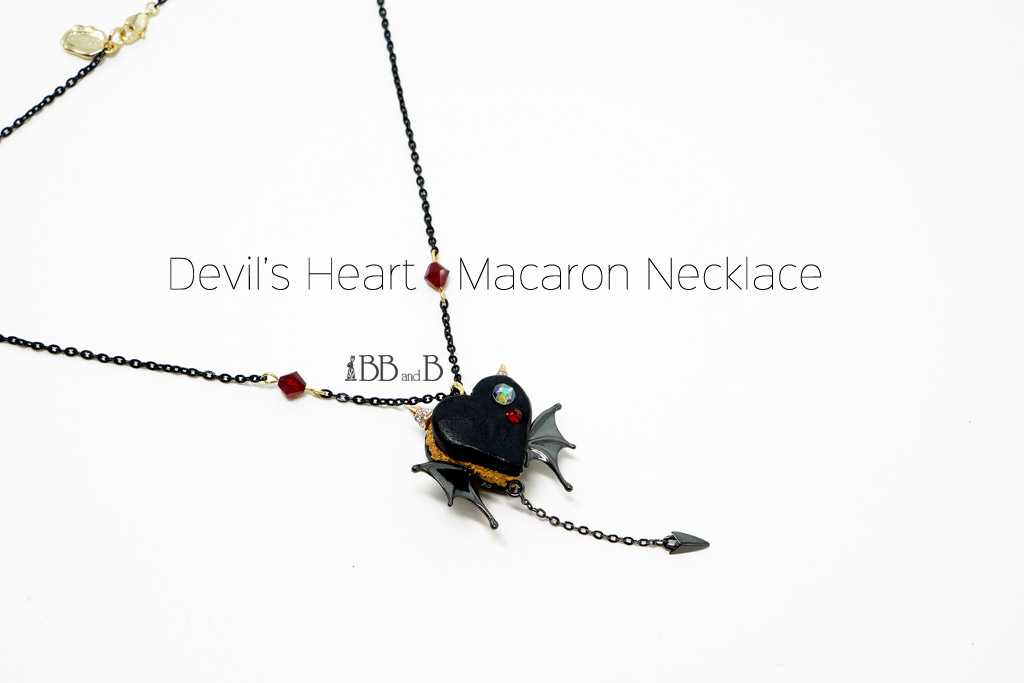 Combining our love for clay confectionary and metal jewelry, we are pleased to introduce to you our latest Dark Sweets jewelry piece, the Devil's Heart Macaron Necklace!
This petite heart shaped macaron has 2 black shells with a fiery gold filling. Swarovski crystals adorn the shells with the larger being their signature Aurora Borealis while the smaller is a brilliant red. All of which should be familiar to the BB and B devotee.
What IS new for this season are the completely custom metal wings and horns on this necklace. Designed, proto-typed, and made in-house, the wings and horns are not mass produced and completely our own.
The wings feature 3 fingers with a smooth membrane between them and has a dark rich gunmetal color coating.  The ends have been rounded out to ensure that it does not snag on any clothing. The tail features the same gunmetal chain with the spike at the end.
The blinged out horns are 18kt gold plating with CZ stones to add to the fire of the gold filling. And last but not least, 2 fiery red Swarovski beads are added to the chain to add the finishing touch.
The metal elements of this jewelry design is the limiting factor of how many pieces we will be able to create. Pre-orders are open now through October 7, or while supplies last.
For more information and to order, click through the button below (must be logged in).