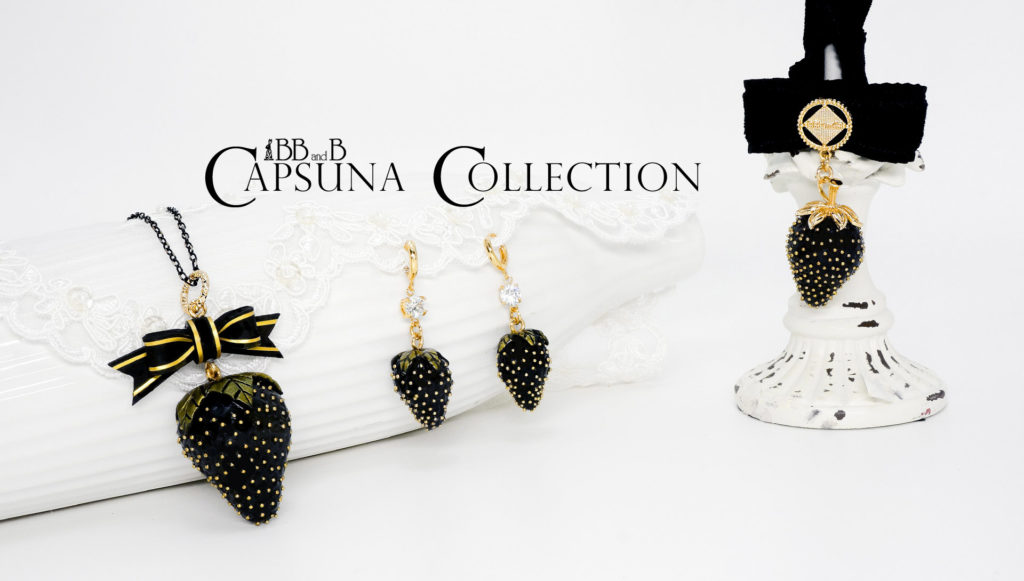 We took our favorite strawberries and turned them DARK! The BB and B Capsuna (Romanian for Strawberry) Collection are the latest addition to our Dark Sweets catalog and is perfect for those who love sweets but prefer a darker colorway.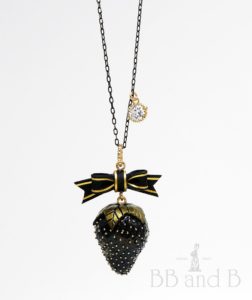 The Capsuna Necklace features one of BB and B's large strawberries in obsidian black with metallic beads for seeds. The leaf on the Capsuna strawberry gently shines with an almost metallic sheen in a rich green gold hue.
A black and gold ribbon bow tie sits immediately above the Capsuna strawberry, all of which is suspended from one of BB and B's signature black gold chains. A large cubic zirconia crystal charm adds the fire on the viewer's right.
The gold extender ends with BB and B's signature wax seal tag and hangs on the back, along the nape of your neck.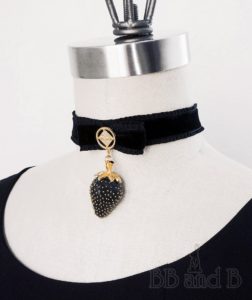 The Capsuna Choker is a velvet ruffled choker that features one of BB and B's medium sized strawberries in the same obsidian black with the metallic beads for its seeds. The leaf on the Capsuna Choker is BB and B's custom gold leaf and stem that was designed and created in house and can be seen in some of our Spring and Summer strawberry jewelry.
This Capsuna strawberry hangs from our signature round logo shield that centers and creates a ribbon that frames the strawberry pendant. And the extender features our other BB and B tag at the end.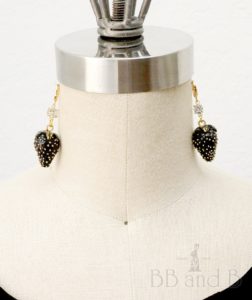 The Capsuna earrings feature a pair of small obsidian black strawberries that hang from a short distance from the loop and a cubic zirconia crystal. Like its bigger sibling, the small Capsuna earrings feature a a rich green gold hue leaves with a bit of metallic sheen and gold metallic beads as its seeds.
—
The Capsuna Collection is available for pre-order from now through October 9, 2019. There is a cap on the number of pieces we can create and in the event that we expect to reach that cap sooner than October 9, an email will be sent to our registered members first, and on our social media next.
Re-released for Fall 2020 for a limited time.
For more information or to order, please click the link below (login required):