BLOOMING STRAWBERRIES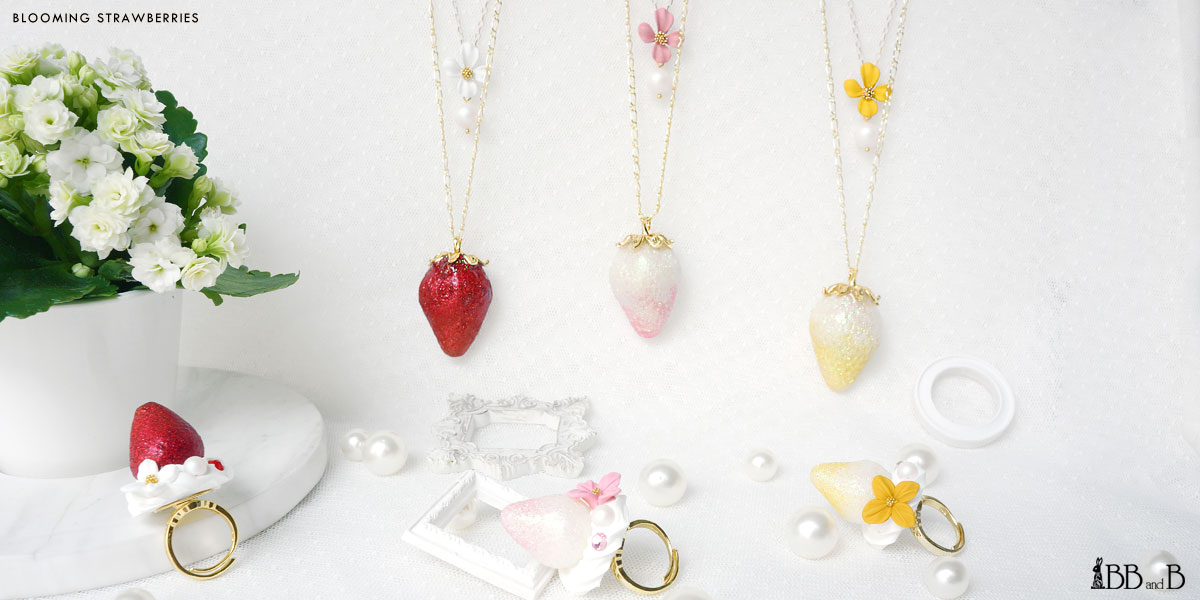 Our popular strawberry design is back with a fun floral twist with The Blooming Strawberry Collection. The signature realistic strawberry pendant has been updated to bring in a spring and summer touch. This strawberry design uses inspiration from the classic handcrafted mold you know from BB and B to create three new versions of these delicious colorways: a soft and bright lemony yellow, a sweet and light bubble gum pink, and a traditional juicy red. The new collection comes in drop earrings, double-chained long necklaces, beaded short necklaces, charms and rings which are perfect to pair together or as separate statement pieces!

This refreshing strawberry design comes with complimentary colored flowers in a golden hued sunflower yellow, a dreamy pastel pink, and a pure white version that are all finished with a gold beaded pistil that matches well with a brand new designed 18kt gold plated leaf complete with our signature "BB and B" stamp atop the berry itself. The strawberry leaf petals are designed to be more modern and even fabric friendly to reduce snag. This fun and fashion forward collection features unique and tasteful Swarovski pearl and crystal details that compliment the gold plated hardware.
Some pieces from The Blooming Strawberry Collection have exclusive features seen only from that specific accessory! The ring includes a delicate whip base that adds to the decadence while the double chain necklace has the flower as the upper layered necklace while the strawberry dangles as the second layer. If you look closely, you can even find the most adorable petite gold strawberry hanging on the phone strap! Apart or together, each piece from this collection will sure to compliment your sweet and elegant side.
Available for pre-order in very limited quantities.
Click to order. (login required)