CRYSTALIZED LEMON SERIES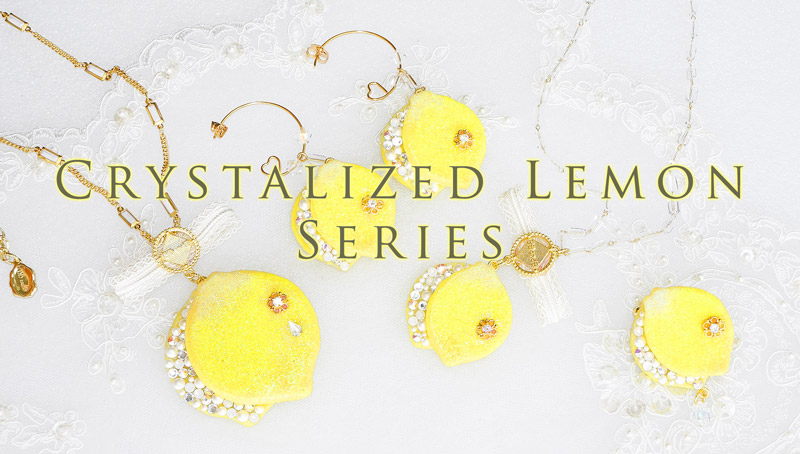 Bright yellow lemon outlines that are carved out and shaped with a sprinkling of glitter and beautiful Swarovski crystals are the prominent design elements of our newest fake sweets series, the Crystalized Lemon jewelry!  Rather than going the traditional design path of the cut lemon cross section look, we went with what we believe to be the equally cute and beautiful shape of a lemon itself.
The lemon shapes are thin and compact, giving an almost 2d feeling to the jewelry piece. The overlapping pieces are filled in with varying sizes of Swarovkis crystals, pearls, and CZ stones.
The sprinkling of glitter is added to match the fire from the Swarovski crystals, pearls, and CZ stones,… almost as if these soft lemon shapes have been permanently crystalized. The tips of each lemon shapes are dusted with a slightly different shade of glitter to provide a bit of depth while a final flower charm (and crystal) is added to the face of the lemon.
Available in 4 different options, the Crystalized Lemon series is available for Pre-Order. Orders placed ship within 2-3 weeks.
Click on the Pre-Order button to see the full collection and additional details. (must be logged in)