20.20 DARK SWEETS
The Witch's Tear Macarons
According to folk belief, witches are unable to shed tears. During the Salem Witch Trials, an accused's inability to cry from their interrogation was taken as indisputable proof that they are in fact a witch. During this season of eeriness and mystery, BB and B brought the lore to life through the creation of the Witch's Tear Macaron!
This frightening and supernatural design features our seasonal midnight macaron and pure black filling with a new spine-tingling twist: a "glass" eyeball with a blood red iris that was inspired by images of antique eye prosthetics. A crystal encrusted cabochon with a crystal "tear" star charm frames the eye to create the Witch's Tear that completes this peculiar macaron.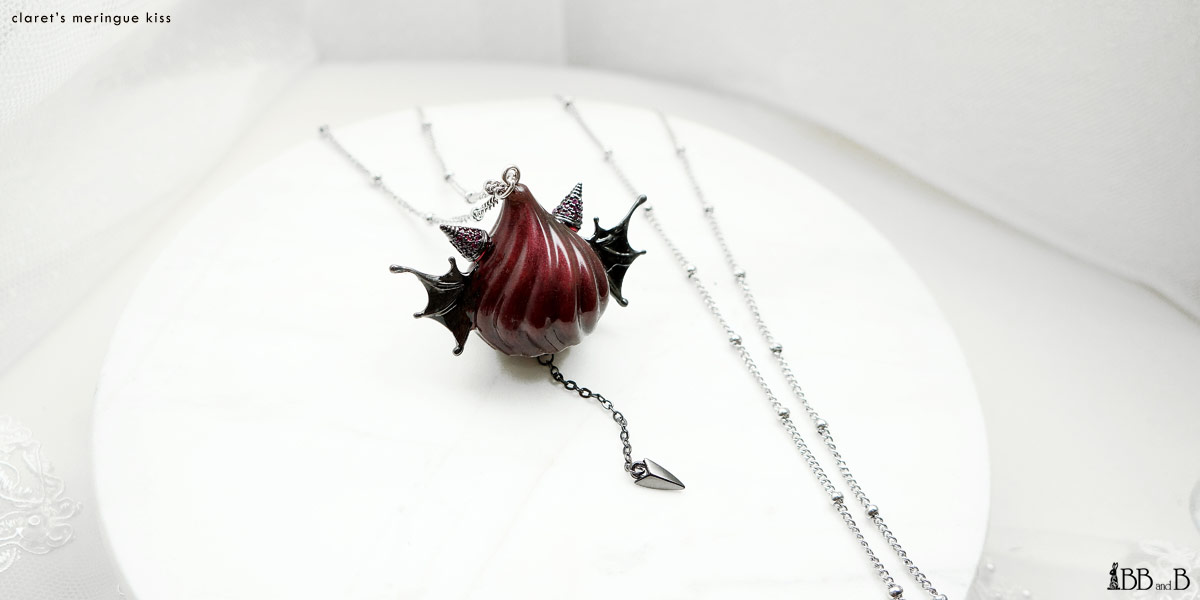 Claret's Meringue Kiss
The Meringue Kiss now has a much darker and devilish counterpart. Claret's Meringue Kiss uses the signature shape of the summer released series, but the dainty design elements previously adorned on the original Meringue Kiss are replaced with more sinister and ominous details.
A rich garnet red meringue kiss is decorated with a pair of unique demon wings and textured devil horns adorn this haunting design. A black chain "devil tail" complete with a pointed arrow end hangs from the bottom of the meringue while the pendant itself dangles from a silver chain.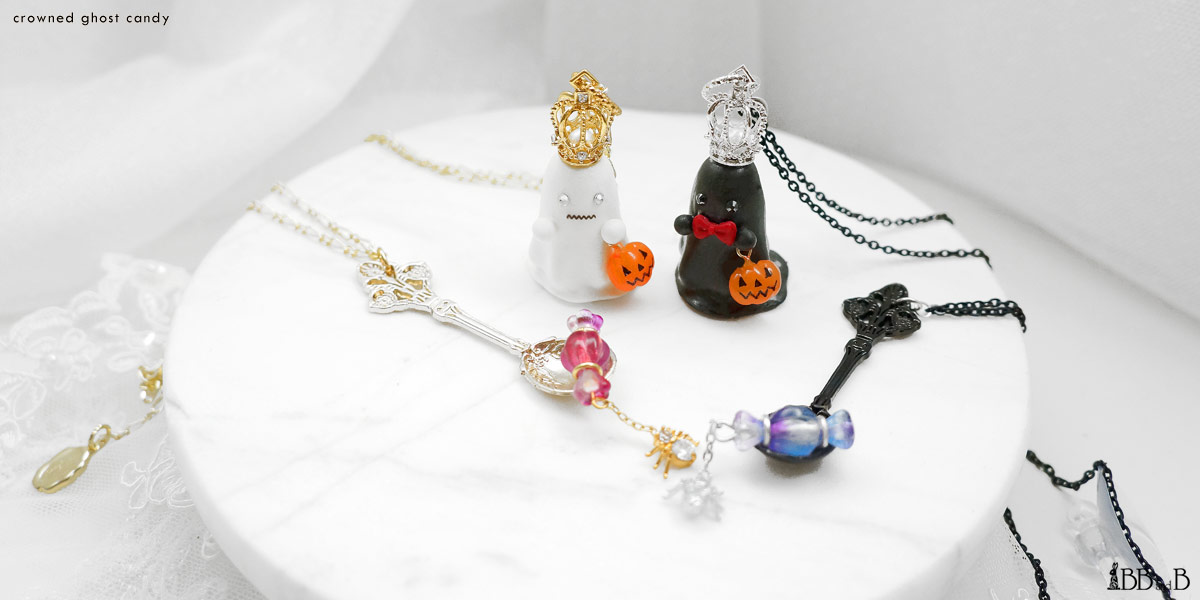 Crowned Ghost Candy
A series full of quirky tricks and the sweetest treats, the Crowned Ghost Candy necklaces feature a unique and adorable candy mold that manifested our enchanting ghost characters! With two endearing colorways, this Halloween inspired design will be the perfect addition to your spooky ensemble.
The crowned candy ghosts are detailed with two sparkling Swarovski crystal eyes and one of a kind Halloween Jack-O-Lantern candy pails! The white candy version features a custom BB and B created gold plated crown with a pearl center piece that matches perfectly with the gold necklace chain that's adorned with a lovely regal spoon charm. On the spoon sits a Czech glass light pink to fuchsia strawberry candy accent ornament complete with a dangling cubic zirconia crystal gold plated spider.
The black candy colorway includes a petite red bow-tie exclusive to this color option and is decorated with the same pearl centered crown, but in white gold plated hardware that compliments the pure black necklace chain and regal spoon with blue to violet blueberry candy décor, finished with a silver version of the dangling spider crystal charm.
The Crowned Ghost Candy is the perfect fall fusion of both tricks and treats. This limited and seasonal design only comes along once a year so make sure to swipe yours before it disappears!
Click to see the full collection. (login required)