EAU DE MACARONS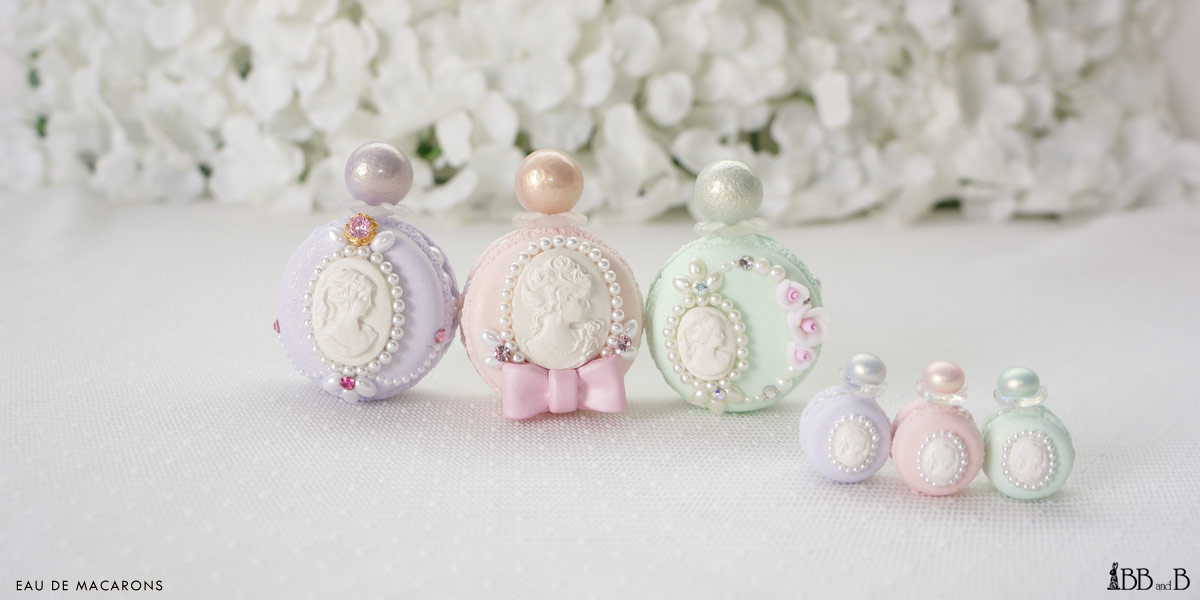 If we could create our sweet macaron perfume bottles, it would look something like this!
A large textured glistening ball cap sits at the "top" of our macaron perfume bottle while a cameo draws your focus downward. 3 different colors feature 3 different cameos with 3 different designs!
The baby pink Macaron features an elegant cameo with a lady wearing a necklace made up of a string of pearls and a dress with rose shoulders. Pearls outline the cameo with a pink bow anchors the bottom with cute oval pearls on the sides.
The mint green Macaron features a cute small cameo that's a bit more Roman with its strong shape and facets. Pearls also outline the cameo and the macaron with small white rose flowers to complement the design.
The lavender Macaron features a cameo that's also lined with pearls but features the a large CZ stone at the top. Smaller pearls extend out from the cameo and also end with matching rhinestones.
All 3 macarons feature a matching "ball glass cap" that sit on a small color matched whip cream and the entire collection's focus is to give the illusion of a glass perfume bottle from the textured glass ball cap to the glistening macaron shells. And inspired by some of the old school tv commercials is a small butterfly that is attracted to the fragrance coming from the perfume bottle.
The full collection features both long and short necklaces, 2 styles of rings, cute miniature color matched earrings, and hair clips!